Have you ever heard that Taiwan is a food-lover's paradise? Well, it truly is and I am here to share my list of 10 must-eat foods in Taiwan to provide some eating suggestions if you ever visit Taiwan and wonder what to eat! In this food guide I provide prices and where to find certain dishes that I posted. This past Winter marked my 13th time visiting Taiwan so I am somewhat of a Taiwan foodie although there are so many more dishes I have yet to try!
Almost every dish in Taiwan is a must-eat food, but I was able to try a greater variety of foods during my last trip to Taiwan and I'm excited to share a list of my favorites which include common and some lesser-known Taiwanese foods which I consider to be "hidden gems". A little money goes a long way for food in Taiwan so get ready to eat! Also, many food stalls use plastic and non-plastic utensils so use the non-plastic ones to reduce waste. It is also a good idea to bring around a set of own utensils since some stalls may not provide non-plastic utensils. Many stores in Taiwan sell reusable utensils and straws so go grab a set! (List is in no particular order)
1. Shaved Ice/Shaved Milk Ice (礤冰/雪花冰)
Shaved ice is a Taiwanese dessert that is perfect for the Summer/Spring time to cool down in sunny or humid weather. The classic shaved ice consists of shaved ice (no flavor) topped with many toppings and often condensed milk or brown sugar syrup. The popular shaved milk ice is flavored shaved ice (such as matcha shown below), topped with fewer toppings and often condensed milk as well. Shaved milk ice is more expensive because it is flavored and tastes more like ice cream. While many people enjoy shaved milk ice more, I prefer traditional shaved ice (no flavor), which I usually top with tapioca pearls, peanuts, taro chunks, and almond pudding. This is my go to! 

Where to eat: Almost all night markets. Many shops specializing in drinks and shaved ice may sell them as well. Shaved ice is not as commonly sold during Winter time.
Approximate cost:
Ranges from 45 NT to 180 NT. Picture shown above is 60 NT in Taichung. 180 NT is the most expensive I have seen and is a specialty mango milk ice with mango chunks, mango pudding, and mango ice cream. It was too over-the-top for me. Looks like:
Tips: 
Eat from the outside in and top to bottom to prevent complete collapse of ice.
Toppings selection often include: mango jelly, jelly chunks, fruits like strawberry, kiwi, and mango, red bean, sweetened green bean, almond pudding, peanuts, tapioca pearls, coconut pudding, grass jelly, pearl barley, and more.
Most shops allow you to choose up to four toppings.
2. Taiwanese Breakfast
Taiwanese breakfast food is to die for because there is so much variety full of flavor and different textures all for a low price. I truly envy locals who have the option to frequently eat a breakfast like this. The first day I arrived in Taiwan, I rushed to a Taiwanese breakfast place to eat! My favorites are Rice balls (fan tuan 飯糰) that are often stuffed with a fried dough stick (you tiao 油条), pickled vegetables, and shredded pork (rou song 肉鬆), Salted soy milk (xian dou jiang  鹹豆漿)  which is soy milk with pickled vegetables, fried dough stick, scallions, and spicy sauce, Soup dumplings (xiao long bao 小笼包) which are dumplings with ground meat and soup, Scallion pancake (cong you bing 葱油饼) which is a flaky pancake with scallions, and a simple Meat bun (bao zi 包子) which is meat or vegetables stuffed in a steamed bun. These foods are all shown below (dark drink is brown sugar soy milk and sesame stick is a sesame stick):
Other breakfast foods that I highly recommend are crispy breads (shao bing 烧饼) which can be eaten by itself or is often stuffed with egg and fried dough stick.
Potstickers (guo tie 鍋貼) are great breakfast foods as well, but potstickers vary from breakfast store to store so the potstickers at the breakfast place you choose may be hit or miss!
Where to eat: 
Yong He Soy Milk in Taipei and other counties (永和豆漿大王) (These are well-known)
Fu Hang Dou Jiang in Taipei (阜杭豆漿) (These are well-known)
Anywhere basically! I've been to many breakfast stores that are not "well-known" and the food is delicious as well. Safe choices are scallion pancake and fried dough stick. Find these stalls on the streets in the morning.
Approximate cost:
Soup dumplings: 8 for 80 NT
Soy milk: 20 NT
Salted soy milk: 25 NT
Rice ball: 35 NT
Scallion pancake: 20 NT
Meat bun: 15 NT
Potstickers: 7 NT/each
Crispy bread w/ fried dough and egg: 40 NT
Tips: 
All menus will likely be written in Chinese. If you do not speak/read Chinese, you can point to the foods or search online how the dish name is written and show it to them on your phone. Lastly, you may memorize how to pronounce the dishes from this post and say it to them!
3. Pork Belly Buns (Gua Bao 刈包)
Pork Belly buns are pieces of braised pork belly in a steamed bun, topped with cilantro, crushed peanuts, and pickled vegetables. The combination of the flavors is outstanding and this is a must-try! Not all night markets sell pork belly buns so I will list certain ones that sell them.
Where to eat: 
Tonghua Night Market (通化夜市) in Taipei
Shilin Night Market (士林夜市) in Taipei
Feng Chia Night Market (逢甲夜市) in Taichung
Gongguan Night Market (公馆夜市) in Taipei
Huaxi Night Market (華西夜市) in Taipei
Other Night Markets
Other Specialty shops or Breakfast shops throughout Taiwan
Approximate cost:  45 NT
Tips
The shop owner will often ask if you want a fat (fei) or lean (shou) cut of pork belly. I recommend a fat cut for extra juiciness. It's not everyday that you're eating pork belly so I would indulge on the fattier cut.
If you want to omit the cilantro, peanuts, or pickled vegetables, let the owner know beforehand.
Some stores offer to add a fried egg for +10 NT.
4. Hot/Cold Sesame Noodles (Majiang Mian 麻酱面)
Sesame noodles are commonly eaten cold with cucumbers, but the lesser known dish in Taiwan is hot sesame noodles which are thin egg noodles, doused in a sesame/Chinese barbeque sauce (shacha 沙茶) with some chili oil and green onions. The dish is incredibly simple but very flavorful and unlike many foods people have eaten. The sauce uses a tahini-like base and adds other seasonings which differs from shop to shop. A good sauce is crucial but a good noodle is important as well. The noodles should be thin, slightly chewy, and yellow, as an egg-based dough should be used.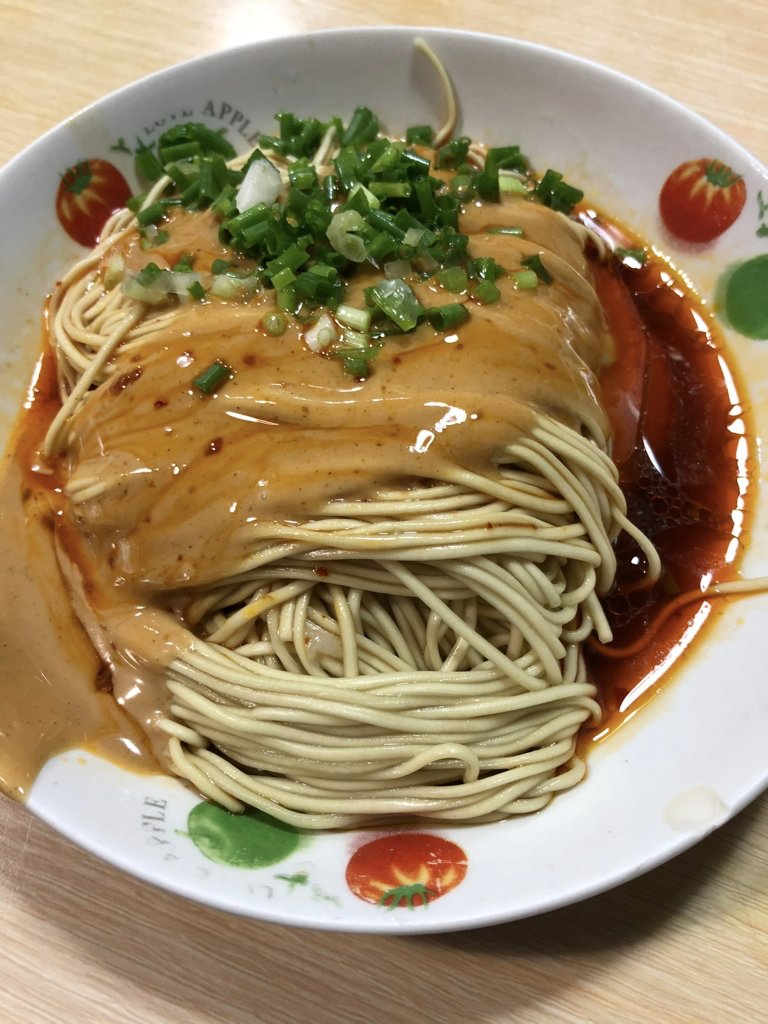 Where to eat: 
Yilan
Xindian, Taipei
Yixiang Mianshi (

No.7, Lane 137 Kangle Road

, 

Yilan City, 

Taiwan)

Other counties
Approximate cost:
30 NT for a small bowl.
50 NT for a large bowl. Expect more if there are extra toppings.
Tips: 
Hot dishes are served year-round.
Cold dishes are served mainly in Spring and Summer.
Ask for more or reduced spice level if needed. Otherwise, most restaurants have hot sauce on the table for you to customize.
5. Fried Mini Shrimp 
If you haven't had these fried mini shrimps tossed in salt, pepper, and onions you are missing out. These are fun to eat because you can eat the whole thing which means no waste! This dish pairs well with rice but can also be eaten as a snack on the go.
Where to eat: 
Wulai (烏來) Old Street Market
Shilin Night Market (士林夜市) in Taipei
Feng Chia Night Market (逢甲夜市) in Taichung
Raohe Night Market (饒河夜市) in Taipei
Approximate cost: 50 NT for small plate shown above
Tip: If you have digestive problems, you should not eat this.
6. Fish ball and/or Wonton Soup
Fish ball are made using fresh fish from the sea so the fish balls taste extremely fresh! The fish balls are often paired with a light broth with fried onions and celery which is overly salty or dense. The simplicity of the soup makes it unique. Wontons in Taiwan are different from Chinese wontons. The wonton skin is really thin and the meat filling is smaller, which is more delicate. The wontons I am posting about are from Yilan and they are perhaps one of the top foods I have ever eaten in my life. I have not eaten a wonton filling like this before and it is indescribable. All I can say is that the filling is more thin and likely has seafood mixed in it to give that unique flavor. The wonton soup shop is listed below. It is a famous whole in the wall in Yilan County!


Where to eat: 
Yilan
Tamsui Old Street (淡水老街)
Taipei
Yixiang Mianshi (

No.7, Lane 137 Kangle Road

, 

Yilan City, 

Taiwan)

Kenting
Daiji Bianshi Wonton in Hualien
Approximate cost:
30 NT for fish ball soup
40 NT for fish ball and wonton soup
Tips: 
Sprinkle some white pepper powder in soup for added flavor.
Eat fish balls and wonton with a bit of provided hot chili sauce.
7. Braised Pork Rice (Lu Rou Fan 滷肉饭) w/ Vegetarian options!
A Taiwan trip is not a trip to Taiwan unless you have eaten braised pork rice. The dish components are literally in its name. Behold a bowl of white rice with chopped fatty pork on top. If you do not eat pork, do not worry, there are many vegetarian options and I have tried them as well; I can surely tell you they are just as good. The vegetarian options are often made with textured vegetable protein, mushrooms, and other components.
Where to eat: 
Shilin Night Market (士林夜市) in Taipei
Feng Chia Night Market (逢甲夜市) in Taichung
Huaxi Night Market (華西夜市) in Taipei
矮仔財滷肉飯  in Beitou (Highly recommend, must wait in line and may be sold out by late lunch time)
Jin Xiang Lu Rou Fan in Xindian (No. 145, Sanmin Road

, 

New Taipei 231, 

Taiwan)

Chuan Ming Restaurant (全民素食) in Yilan [VEGETARIAN]
Loving Hut Restaurant (愛家) in Yilan, all locations [VEGAN]
Other Night Markets
Other Specialty shops throughout Taiwan
Approximate cost:  30- 45 NT/bowl
Tip:
Order some side dishes to eat with the braised pork rice. Many shops will have bamboo shoots, pickled vegetables, and other small dishes.
8. Egg Tart (Dan Ta 蛋挞)
Most people are familiar with Pasteles de Nata (Portuguese Egg Tarts) and know just how flaky the crust is AND how sweet and soft the egg pudding is. Taiwan sells these egg tarts but the flavor is slightly different and the crust is flakier; it seems as if they use a puff pastry/pie dough rather than just a pie dough which is really worth a try! Finding good egg tarts used to be a bit difficult, but now you can literally find it at KFC… no kidding!
Where to eat: 
KFC all locations in Taiwan
Carrefour Bakery all locations in Taiwan
King Bakery all locations in Taiwan
Chia Te Bakery all locations in Taiwan
Nobel Cake in Yilan (No. 188, Gongzheng Road, Luodong Township, Yilan County, Taiwan 265)
Milkhouse Bakery all locations in Taiwan
Other bakeries in Taiwan
Approximate cost: 25 NT each
Tip: 
If you warm it up in an oven or an air fryer (if you so happen to have these appliances) it will taste like it was fresh out of the oven *Irresistable*.
9. Fresh Seafood/Sushi
Seafood in Taiwan is fresh and cheap so you are in luck if you like seafood. Seafood can be found anywhere but coastal cities like Bali, Suao, and Kenting will have some of the freshest seafood for crazy low prices. Enjoy dishes like sashimi, crab, lobster, shrimp, clams, fish, abalone, and more. One of my favorite sushi restaurants is the chain, Sushi Express, which specializes in sushi on a train. Each plate is 30 NT and usually comes with 2 pieces of sushi or 1 large sushi. Tea is complimentary and the interior is very comfortable and enjoyable.
Where to eat: 
Hong Pangxie Restaurant (紅螃蟹) in Yilan
Sushi Express (爭鮮) all locations
Shui Du Huo Seafood Restaurant (No. 52號, Yugang Road, Su'ao Township, Yilan County, Taiwan 270) in Yilan

百鱻海產 (No. 1-1, Caotan Road, Hengchun Township, Pingtung County, Taiwan 946) in Pingtung
Approximate cost: MT and varying prices
Tip: 
I recommend steamed fish, sashimi, mantis shrimp, and lobster.
10. Sticky rice ( 油飯)
Sticky rice is a common staple food in Taiwan and is often wrapped in bamboo leaves. Traditional sticky rice has fragrant mushrooms, mini shrimp, and pork.

Shilin Night Market (士林夜市) in Taipei
Feng Chia Night Market (逢甲夜市) in Taichung
Huaxi Night Market (華西夜市) in Taipei [recommend!]
Other shops and grocery stores
Approximate cost: 30-40 NT per bowl
Tip: 
The spicy red sauce that often comes with sticky rice is mild and slightly sweet. Definitely ask for the sauce if they don't give it automatically!
That is all! Hope you all found this list to be informative, whether it be for your future trip to Taiwan or just interesting information to know in general. There are so many more things I wish to put in a must-eat food list so more food posts about different dishes in Taiwan coming up. If you have any questions, please leave a comment or send me a message in the "Contact Me" Tab. If you have ever visited Taiwan, I would love to know what foods you ate.